Sausage Egg And Cheddar Cheese Roll Up's.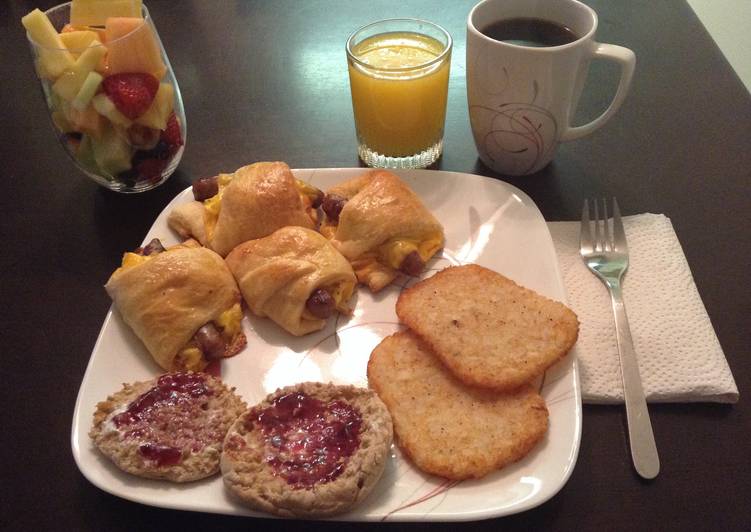 You can cook Sausage Egg And Cheddar Cheese Roll Up's using 7 ingredients and 16 steps. Here is how you achieve that.
Ingredients of Sausage Egg And Cheddar Cheese Roll Up's
You need 5 of Eggs.
Prepare 1 can of Pillsbury refrigerated crescent dinner rolls.
It's 8 of Breakfast sausage links.
You need 4 slice of cheddar cheese (sandwich size).
It's 1 dash of Salt.
You need 1 dash of Pepper.
You need 1 dash of Milk.
Sausage Egg And Cheddar Cheese Roll Up's step by step
Crack eggs into a bowl add dash of milk and scramble up.
Reserve a spoonful of egg mixture to brush on top before baking.
Spray a skillet with no stick cooking spray.
Scramble eggs salt and pepper to taste.
Place sausage in skillet with a dollop of water.
Cook sausage until done.
Put sausage on paper towel lined plate.
Press another paper towel on top to remove excess grease.
Open up crescent rolls unroll and break apart each triangle. Place on a non stick baking sheet.
Cut the cheese in half so it fits on the triangle better a full piece would melt to much out side of the roll and cause to much of a mess.
On top of the cheese place a spoon full of eggs. Not too much so that it's over packed but not to little to be skimpy..
Place a piece of sausage on top of the eggs.
Loosely roll up the crescent roll locking in the eggs cheese and sausage.
Brush on egg mixture on top of roll ups.
Place in oven for 15-20 minutes until golden brown.
Plate and enjoy :).